List view:

It provides the most basic and customizable overview of your tickets. Let's dig into it deeper and see what it suggests.


The first thing we actually see is the ticket list itself. You may refine, which columns are to be displayed, using 'Fields to Show' section of a sidebar filter.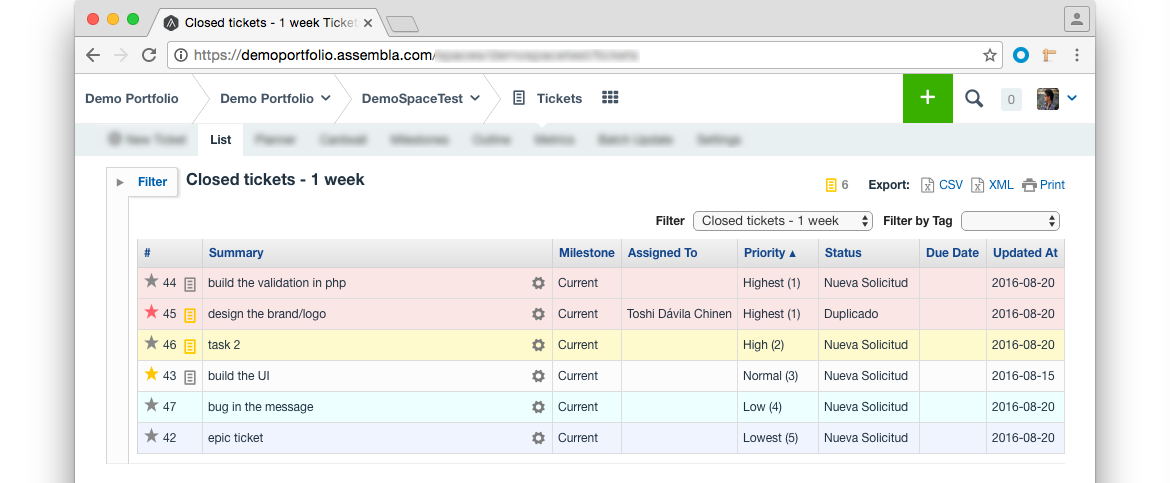 Ticket colour varies, depending on its priority: tickets, highlighted with red are the most important.

The star icon (

) next to the ticket number indicates if you are following that ticket. If it's grey - you are not following it. Yellow means you are a follower and orange is displayed if you are its assignee (which makes you a follower as well).

Clicking the cogwheel icon (

) in a summary field will toggle the context menu, where you can change the ticket parameters on the fly, without opening the ticket.

If you would like any column to be sorted alphabetically, just click its header (for instance, Summary).

Now let's see, what the bar above the list stands for.





The "Filter"dropdown allows to choose among Assembla predefined filters (you will have those by default), Personal filters (filters that you have made for your own purposes and decided not to share with the team) and Team filters (which are available for everyone in a team).


"Filter by Tag"dropdown gives you the possibility to sort tickets by a tag quickly, without using the sidebar filter.


Number on the right (next to the "

" icon) displays the actual number of tickets, returned by a chosen filter.


The "Export" subsection is used for exporting current ticket list into CSV, XML file, or printing it (alternatively, saving to PDF).


Now, let's find out, what the sidebar filter can do.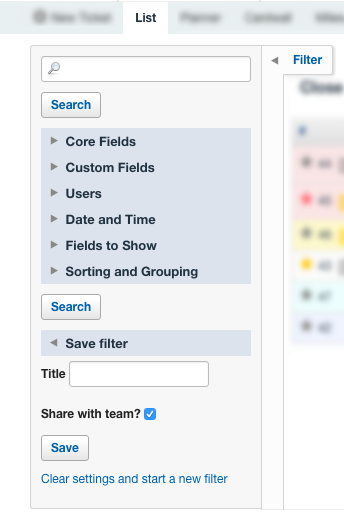 First, you may just search for anything within a ticket summary and filter will return appropriate results in a list.


If you need more precise results, refine them, using filtering parameters, divided into 4 blocks:
Core Fields: It is designed to filter tickets by their main parameters: Status, Milestone, Tag, Component, Plan Level.
Custom Fields: It filters tickets by predefined custom fields that can be created via Settings -> Ticket Fields -> Custom Fields.
Users: It can filter tickets by 'Assigned to' and 'Reported by' values. You may also tick the 'Only followed tickets' checkbox to display only the tickets you are a follower of.
Date and Time: It can help you sorting tickets by various time/date based events.
Furthermore, "Fields to Show" block turns on or off columns displaying in Ticket list and "Sorting and Grouping" block defines, which order will tickets be sorted in.


After you are done with tweaking sidebar filter settings, click the Search button to apply the filter.


If you are satisfied with its output and would like to use it in future, toggle the 'Save filter' block, choose a fancy name for your filter, decide if you would like it to be shared with your team and click the Save button. From now, the filter will be available in a Filter list.


If something went wrong, feel free to click 'Clear settings and start a new filter' and start from the scratch.