Outline view:
Assembla's Outline is designed to build a Development Roadmap fast and smoothly.
The main purpose of Outline view is to make working with Epics, Stories and subtasks easy.


Here's the concept of how Outline should work. In Epics | Milestones view, Outline is divided into two sides: on the left side with Epics you plan, what you are going to do: the features and implementation tasks for these features in a hierarchical tree. On the right side you see a Milestone column that represents, when you are going to do it. Milestones show chronological roadmap with iterations, planned releases and backlog containers.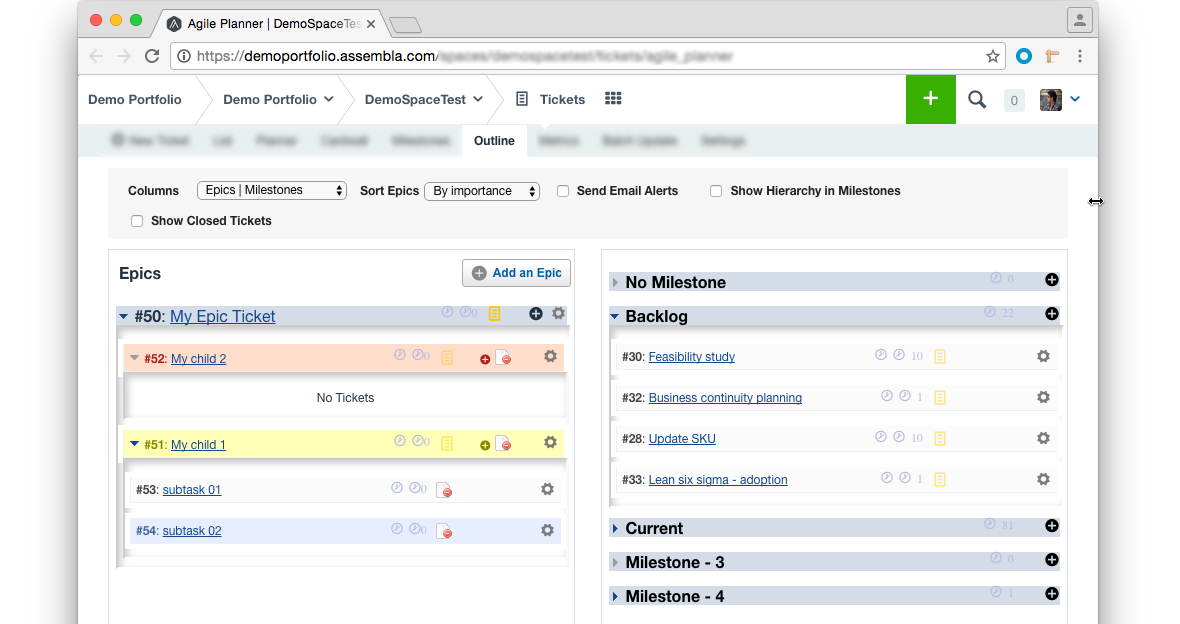 You may view the ticket details from the right or left columns by clicking the ticket name. Also, you can increase/decrease estimates by clicking the clock icon for a ticket.


If you want to make an Epic out of any ticket, click the 

 icon. This will automatically convert ticket into an epic.
The cogwheel icon toggles the context menu, where you can change the ticket parameters.


Clicking the plus symbol on a ticket or milestone lets you add a child ticket to an epic, a subtask ticket to a story, or a new ticket to a milestone.  After entering the ticket parameters and clicking Save, you can either fill out the parameters for another ticket, or close the window.


Note that in Outline view a ticket can appear twice - on the Epics panel and under a selected Milestone.


In the Milestones | Milestones columns view you will see Milestones in both the left and right columns. This mode can be useful when planning a release by moving tickets between milestones by dragging them across columns.