Overview
The Messages tool removes the clutter of messy email chains while maintaining a centralized record of all conversations with files. There are 2 kinds of messages that one can have in an space. They are - Visible and Hidden from Watchers.


1. Messages - 2 different types

Visible to Watchers: It means they are public. Messages are created Public by default unless it is specifically marked as Private (Hidden from watchers). Public messages are viewable to all watchers and Public watchers. Click on the "Visible to Watchers" link on the left to see the list of Public messages.

Hidden from Watchers: It means they are Private. If you want to mark your message private in order to hide it from watchers, Public watchers and non registered users, you will need to select the "Hidden from Watchers" option while creating or editing a message.


2. Post a New Message
If you want to create a new message, just follow these steps:
Go to Messages tool.
Click on "Start a discussion" button at the right top.
Enter a Subject and add a message. 
If you want to add attachments to your message, click on the "Add attachments" link and upload your file.
Before submitting the message, you can preview your message by clicking on the Preview link. You see how your message will look like once submitted.
Finally click "Create Message" button. The message will be created successfully.
​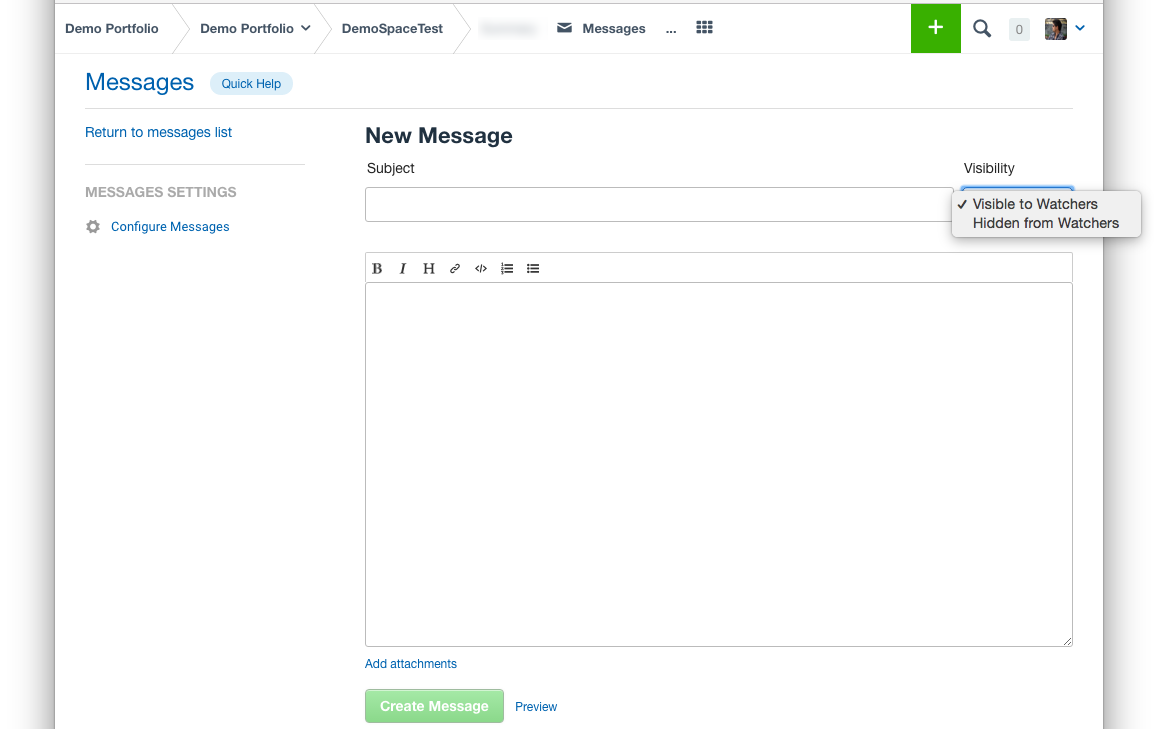 3. How do we alert users when a Message is posted?
When a message is created, the members of the team receive an email alert. If you create or edit a Message comment and mention someone (For example - @userlogin), the mention is sent to that user and an email alert is also sent.

Note: In order to receive an email alert regarding Messages, please make sure that the user selects "When an event happens" for Messages in the Stream > Email notifications page (https://www.assembla.com/spaces/space_url/users/alert_settings). To learn more about email alerts, please check our Configure Email Alerts article.


4. Message Settings:
Click on the "Configure Messages" link on the left to setup your Messages tool in your space. The following options are available in Messages Settings page:


Email to Messages:
As an owner of an space, you can allow Nobody, Any Registered user, Owners, Members, Watchers or Anyone to send email to the Messages tool of your space. As an owner of an space, you also have the option to enter white list  domains. Users can create messages by sending emails to the space address: <space_name>@alerts.assembla.com


Custom Permissions:
As an owner you can choose how members of your team will be able to access this tool. You can give them All, Edit, View or None permissions on the tool.


---

If you have any questions or need assistance. Please always feel free to email us at support@assembla.com. We will be happy to assist.